When it comes to doing a bathroom up, there are many things you could do. We ran through the best of the best below. They'll add the most value. Keep reading.
Tiles
Are you happy with the tiles in your bathroom? A tile style that may have been popular years ago may not currently be in. Your home may be old. You're advised to look at what're in place and swap them for newer alternatives.
If you're scared of the tile style, you're about to place becoming dated, go with a marble option. Marble tiles tend to look rich, and everyone loves them, no matter the type of space they are in.
Tub
Your bathroom may unfortunately not have a tub. If you want property value to rise, you would include one. The deeper and larger the tub the better. Yes, installing them can cost a lot. But know that you can purchase bathtubs used. Just look around.
Bigger Space
No one likes a small bathroom. You might be able to tear down walls and make the space bigger. It's relatively easy to do, as the walls connecting bathrooms to bedrooms usually have no wires or pipes.
Better Security
An improvement you could do would be improving the privacy and security of the bathroom. How can you do this? Easy, just swap the bathroom door knobs for more secure options. If you want to go all out, you could install a digital lock system – once you're in, no one would be able to enter.
Improve the Lighting
Speaking of tearing down walls, create openings for natural light to come in. Preferably, a skylight. You can relax and take a shower while revelling in nature.
Water Pressure
An improvement that doesn't cost too much would be improving the water pressure. There's no point in you doing our big-ticket improvements if you're going to be showering with lacklustre water pressure.
Your Sinks
The bathroom may only have 1 sink. Adding another 1 would make things easier for you and your partner. If you're planning on selling the home, the inclusion of the extra sink is smart, as it would make the home more tempting for married couples.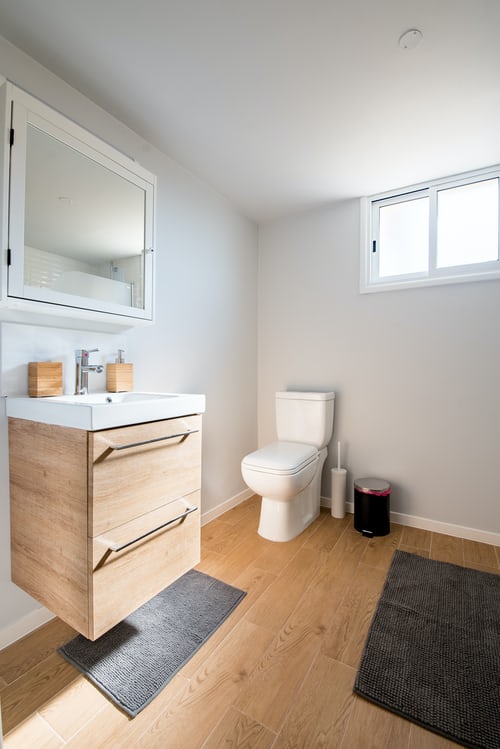 Along with the sinks, include a new vanity too. Go with ones that have tiles that would match whatever is on the floor. Marble is a good choice. What's more, the stone is easy to clean and maintain.
Final Thoughts
There are a thousand things you could do to renovate a bathroom. We discussed the very best. From the assortment, something that would provide the most bang for your buck would be switching the tile in the space. With an option like marble, it would look richer. You can get a vanity made out of marble too. And place two sinks on the counter. It'd make things easier for you and your partner. Making space bigger is a smart thing to do as well. You can tear down the walls that connect the bathroom to the bedroom.